Custom Posey Wedding Rings
Posey rings are engraved with words, love poems, symbols & quotations from around the world. Each ring can be personalized to your own preferences with phrases or symbols that are sentimental to you.


---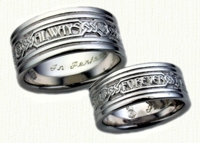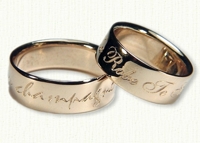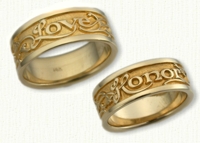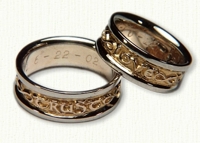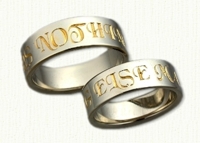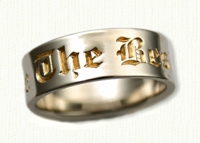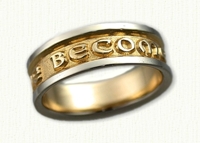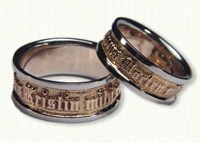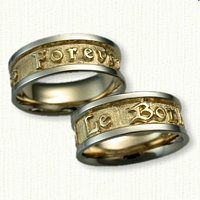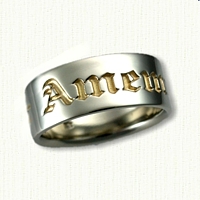 Examples of Possible Phrases

OLD ENGLISH: Forget Me Not; Hope is the Life of Love; In Thy Brest My Heart Doth Rest; Love is Enough; Never to Change
French: A Vila Mon Coeur, Gardi Li Mo (Here is my heart, Guard it well); Amour Vincit Omnia (Love Conquers All); Autre Ne Veuil (No One But You)
Latin: Amor Meus (My Love); Carpe Diem (Seize the day); Liveri Vivas (May you live carefree); Semper Amemus (Our Love is Forever)
German: Myn Genyst (My Heart)
Gaelic: Cuirle Mo Crorow (Pulse of my heart); Anam Cara (Soul Friend)
Spanish: No Tengo Mas Que Darte (I have nothing more to give you but my heart)
Please specify regular or reverse etch when ordering.

---
Bands are available in 14kt Yellow, White, Green & Rose, 18kt Yellow, Palladium, Platinum & Sterling Silver.
All Widths and Sizes Available. Any Combination of metals is Available.



Band Pricing
All bands are also available in sterling silver- up to size 9.75 are $135.00 - Size 10.0 and larger are $150.00



Feel Free to Email With Ideas & Estimates

We will gladly
sketch
your ideas for a Custom Band.
($100 - $200 Setup applies to Custom orders)